Urban Areas Can Feel Much Hotter
Urban areas in Vermont can feel much hotter than surrounding rural areas. This is referred to as the urban heat island effect. This results in increased risk for dehydration, heat exhaustion, and heat stroke in urban areas. Severe heat illnesses can be life-threatening. The risk is especially high for older adults who live alone and do not have air conditioning. Learn more about heat illnesses and safety tips.
In communities at especially high risk for heat illnesses, the following strategies should be considered to help provide relief:
Create a community response plan that identifies protective actions to take on hot days.

Open a cooling center by following the community cooling center guidance.

Mobilize local care networks to check on people at high risk for heat illness. If conducting in-person safety checks, be sure to keep a 6-foot distance from other people and wear a cloth face mask or covering.

Plant trees and shrubs, and reduce paved surfaces to keep urbanized areas cooler.

Promote energy-efficient building design, including use of cool roofs and pavements.

Provide financial assistance for residents to install and run home cooling devices
Chittenden County Heat Mapping Project
Image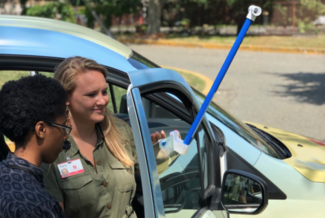 Data collection has been completed. Please check back soon to see what we learned!
With support from the National Integrated Heat Health Information System, the Vermont Department of Health organized a heat data collection and mapping campaign in Chittenden County during the summer of 2020. Volunteers collected temperature data by car and bike on August 10. The data are now being used to produce detailed maps of temperature differences across the County on a typical summer day. The maps and other findings from this project will help us to work with community partners to reduce heat-related health risks in urban communities in Vermont.
To learn more about this project, see the following:
For more information, contact ClimateHealth@vermont.gov.