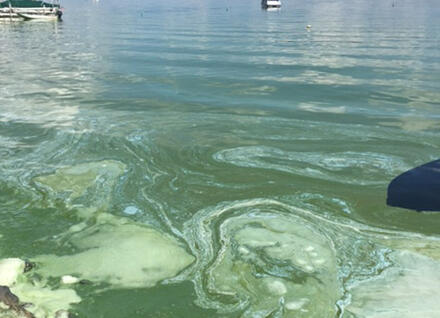 Cyanobacteria, also known as blue-green algae, are a common and natural part of the microscopic plants (plankton) in Lake Champlain and other Vermont waters. Some types of cyanobacteria can release natural toxins or poisons (called cyanotoxins) into the water, especially when they die and break down. People and pets should stay away from cyanobacteria blooms. Learn more about cyanobacteria.
Lake conditions
The 2016 active monitoring season has ended. While we are not receiving regular reports from our monitoring locations, updates will be posted here as appropriate.
During the active monitoring season, check the Cyanobacteria Tracker Map for recent reports on lake conditions. Season summaries are also available. The map is mobile-friendly.
Not all Vermont bays, lakes, and ponds are monitored. Be aware of changing conditions, and keep out of the water if you think cyanobacteria may be present.
To find out if a beach or swim area is open, call the beach manager. This may be the town, a private association, or Vermont State Parks.
identifying a bloom
See examples of what cyanobacteria blooms look like and what are not cyanobacteria blooms.
Weekly drinking water test results
Weekly drinking water test results can be found on the Vermont Department of Environmental Conservation's website.
Monitoring for Cyanobacteria
Active surveillance begins in the summer around early June and concludes in the fall around mid-October.
These lakes are monitored for cyanobacteria blooms:
Lake Champlain
Main Lake - North, Central, South
Malletts Bay
St. Albans Bay
Inland Sea
Missisquoi Bay
South Lake
New York Lake Champlain (monitored by Lake Champlain Committee)
Vermont's Inland Waters
Carmi
Elmore
Iroquois
Memphremagog
Cyanobacteria on Lake Champlain are monitored by joint efforts from the Lake Champlain Committee and the Vermont departments of Health and Environmental Conservation.
Other Bodies of Water
Vermont Beach or Swimming Areas: call the beach manager. This may be the town, a private association, or Vermont State Park.
New York Lakes other than Lake Champlain.
Partners in Monitoring Vermont's Waters
The Lake Champlain Committee coordinates and works with a group of citizen volunteers to monitor shoreline sites on Lake Champlain in Vermont, New York, and Quebec. There is a higher risk for people or pets to come into contact with cyanobacteria at these locations, and generally the highest amounts of toxins can be found in shoreline scums.
The Vermont Department of Environmental Conservation (DEC) monitors long-term water quality at dozens of off-shore stations on Lake Champlain.
All 22 public drinking water suppliers on Lake Champlain submit samples for cyanobacteria toxin analysis. Drinking water test results are updated weekly by the DEC's Division of Drinking Water and Ground Water Protection.
For more information or to report a bloom:
Call: 800-439-8550 7:45 a.m. to 4:30 p.m. Monday through Friday (except state holidays)
Email: AHS.VDHBlueGreenAlgae@vermont.gov after hours, weekends, and state holidays