Vibrant age-friendly communities foster economic growth and benefit the happiness and health of all residents.
Image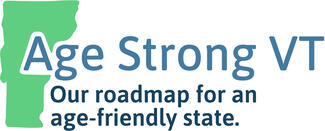 Vermont's older population is our fastest growing age group. By 2030, one in three of us will be over the age of 60.  Becoming an age-friendly state requires a holistic approach that brings us together to ensure older Vermonters are able to contribute their time, wisdom, talents and skills to our communities and to address a wide range of changing needs—such as housing, healthcare, transportation, caregiving, access to healthy food, education and employment.

Our Priorities
How will Age Strong VT promote aging well?
Under our current societal framework and given our changing demographics, older Vermonters are placed at a disadvantage when it comes to autonomy, safety, and security throughout the aging process. Older Vermonters may face bias in gaining employment and can face the challenge of managing multiple chronic diseases.
Related Statistics
60% of older adults report experiencing age discrimination in the workplace.
45% of all Vermont employers do not offer retirement benefits.
70% of older adults will need long-term care as they age, yet almost half (46%) of older Vermonters do not know how they will pay for long-term care.
38% of Vermonters with Alzheimer's Disease or Related Dementia have 5 or more chronic diseases.
To mitigate these barriers and prepare for the state's demographic changes, the Age Strong VT plan serves as a roadmap for Vermont state agencies and lawmakers, business owners, social service agencies, town and city planners, and the healthcare industry to build a coordinated and efficient system of services—with the overarching goal of enhancing and securing the right for all Vermonters to age safely and happily, while maintaining dignity and respect.